As another year rolls around, it is time to start thinking about your team for the TransCare 2017 Barefoot Bowls Night.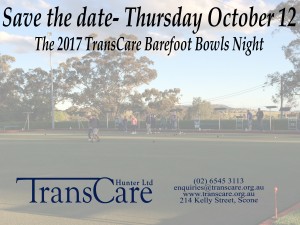 We will be making our return to the Scone Bowling Club greens on Thursday, October 12 and we hope you will join us.
Funds raised on the night will be used to support our TransClub social events; monthly social activities that encourage clients to try new things and meet new people. Some of the activities have included singing, dancing, lunch trips and much more!
To find out more about this service, see our Social Events page.
Participant entry will soon be open, and there has already been a lot of interest in getting in on the action. There will be an entry fee of $40 per team, to be made up of four players- no experience necessary!
2017 Barefoot Bowls Night auction and raffle
We are already getting some great donations in for the Barefoot Bowls Night auction and raffle. TransCare greatly appreciate the support from local businesses who get behind the event, as well as those from outside the area who can see the benefit TransCare services bring to the area.
Nova Cruises- Voucher- Harbour Highlights cruise for 2 adults (value $68)
Vines Restaurant Hollydene Estate- 2 glasses of wine and a cheeseboard valued at $50.
Scone Post Office- Ring/ trinket holders, choccy coins
Melanie's Matthews Family Jewellers- Vase
Asser House- Voucher $50
Oscars @ the Workies- Voucher $50
Newcastle Knights- Family pass to a 2018 home game
PharmaSave Chemist, Scone- body care gift pack
John Flood Real Estate- cheque donation
If you would like to know more about making a donation for the night, please contact Jemma on (02) 6545 3113 or email direct to promo@transcare.org.au.