The TransCare Annual Barefoot Bowls Night Fundraiser is fast approaching!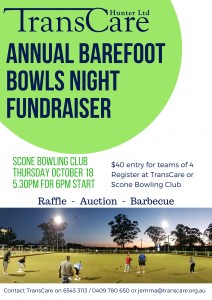 Join us on the greens of the Scone Bowling Club for a bit of fun for a good cause.
We will also have a raffle and auction on the night with generously donated items up for grabs. We have you covered with a barbecue as well. All proceeds will be put to work helping keep TransCare services running in the local community.
No experience necessary!
Dressing up is encouraged!
Entry for a team of 4 is $40, if you don't have a full team let us know and we will see if we can add you to a team.
Thank you to everyone who has made a donation towards the event
If you would like to make a donation for the raffle or auction, or to enter a team, please contact Jemma on 6545 3113 or via email jemma@transcare.org.au