Meals on Wheels
We are the official distributors of Meals on Wheels in the Upper Hunter Region. We deliver healthy, delicious meals straight to your door.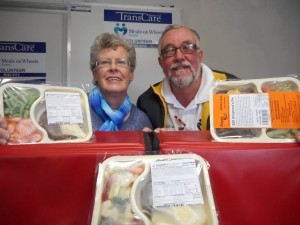 Delivery of nutritious meals, social interaction and a friendly check of a client's wellbeing by Meals on Wheels volunteers can help people live the lives they choose.
TransCare as the official distributors of Meals on Wheels delivers a wide variety of delicious, nutritionally balanced meals and helps people to maintain an independent life at home. Meals are delivered frozen, ready to pack into your freezer or pop in the microwave.
Meals are made to suit a client's taste preferences and dietary requirements and come as main meals, mini meals, desserts or cakes. Most of our meals are low GI, low fat and are suitable for diabetics.
We can supply:
Breakfasts
Soups
Main meals
Mini meals
Premium meals
Desserts
Finger food
Let us know if you have any dietary requirements, we can cater to all your special dietary needs, including:
Gluten Free
Low Potassium
Puree
Cut up
For more information or to place an order call 6545 3113.
Meals on Wheels Memoirs
In the videos below, some of TransCare's Meals on Wheels clients and volunteers talk about the service. 
MOW Memoirs: Meet Meals on Wheel client Audrey and volunteers Sue & Denis. 
MOW Memoirs: Meet Meals on Wheel client Colleen and volunteers Deb and Helen.