Community Wellbeing
TransCare hold regular social lunches, and are also distributors for Meals on Wheels NSW in the Upper Hunter
Meals at Center
(formally Wheels to Meals)
Everyone loves a good feed, and around the Upper Hunter there is no shortage of options of where to get one.
At TransCare we believe it is important for everyone to get a chance to enjoy eating out with friends and that is where our Wheels to Meals service comes in.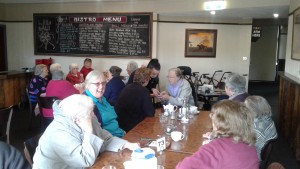 Each month, in both Scone and Muswellbrook, we run a social lunch which visits different restaurants so clients can enjoy the areas spoils.
Trained volunteers collect guests on the bus and take them to the pre booked venue, then after tummies are full they are dropped to their door again.
The social interaction provided by this program is instrumental in helping older people of our community to develop relationships and maintain communication with peers. 
Wheels to Meals takes place every second Wednesday of the month in Scone, and every second Tuesday in Muswellbrook. For costs and bookings, please give TransCare a call on 02 6545 3113. 

To view a list of all TransCare's upcoming social events click here. 
Meals on Wheels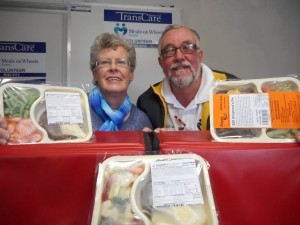 Delivery of nutritious meals, social interaction and a friendly check of a client's wellbeing by Meals on Wheels volunteers can help people live the lives they choose.
TransCare as the official distributors of Meals on Wheels delivers a wide variety of delicious, nutritionally balanced meals and helps people to maintain an independent life at home. Meals are delivered frozen, ready to pack into your freezer or pop in the microwave.
Meals are made to suit a client's taste preferences and dietary requirements and come as main meals, mini meals, desserts or cakes. Most of our meals are low GI, low fat and are suitable for diabetics.
We can supply:
Breakfasts
Soups
Main meals
Mini meals
Premium meals
Desserts
Finger food
Let us know if you have any dietary requirements, we can cater to all your special dietary needs, including:
Gluten Free
Low Potassium
Puree
Cut up
For more information or to place an order call 6545 3113.